T-Mobile USA announced today that the Sidekick 4G will launch on April 20th for $100.  The Sidekick 4G ditches Danger's original Sidekick interface for Android 2.2, and Samsung, not Sharp, will manufacture the tween-targeted phone.
Given its price, the Sidekick actually offers a pretty solid feature set.  The device will rock a 1GHz Samsung Hummingbird processor, HSPA+ data, 3.5 inch display with a 480 x 800 resolution, up to 32GB of storage via microSD, front (0.3 MP) and rear (3 MP) cameras, and the trademark slide-out screen that Sidekick fans have grown to love.
The Sidekick 4G will be available at T-Mobile retail stores, as well as RadioShack.
Source:  BGR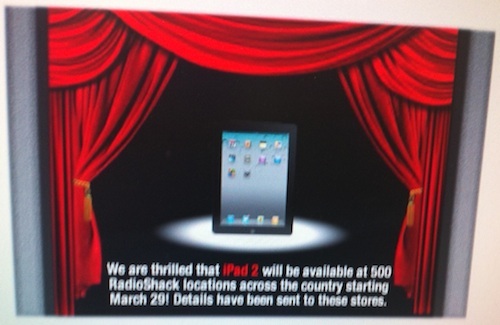 Still having trouble finding an iPad 2?  Join the club.  iPad 2 inventory in Apple stores has been limited since the device launched on March 11th.  Stock at third party iPad 2 retailers, including Target, Best Buy and Walmart has been even less reliable, with many stores only receiving a handful of units on a sporadic basis.
But there is a bit of good news on the horizon.  According to an internal document published by MacRumors, RadioShack will begin offering the iPad 2 at 500 stores nationwide starting tomorrow, March 29th.  The document indicates that the stores carrying the device have already been notified, and multiple RadioShack locations have already confirmed that they will have the iPad 2in stock tomorrow.  RadioShack has about 4,500 stores nationwide, so only about 1 in every 10 stores will have iPad 2s in stock.  The exact list of RadioShack stores carrying the iPad 2 has not been published, however, so your best bet is to call local RadioShack stores for more info.
It's not clear why RadioShack will receive what will likely be a large shipment of iPad 2s, when stock at other third party retailers has been severely limited since the device first launched.  There's also no indication of why RadioShack is launching the iPad 2 over two weeks after the device was first released.
Either way, this is good news for those of you that have been waiting patiently for the iPad 2, and with retailers across the nation sold out, this will most likely be your best chance of picking one up.
Source:  MacRumors
Last week we learned that Sprint stores will be opening early for the HTC EVO 4G launch on June 4th, and today RadioShack announced that it will be following suit.  The company announced today that on June 4th, select RadioShack stores will be opening their doors at 6am to fill HTC EVO 4G preorders.  Additionally, RadioShack will give preorder customers that show up early an additional 15% discount on accessories, on top of the $20 accessory gift card that pre-order customers are already receiving.
It's not clear why Sprint or RadioShack decided to open early on EVO 4G launch day, but this does suggest that demand for preorders has been strong and stores are hoping to distribute the flow of activations throughout the day.
Just two more days to go.  Keep in mind that if you're planning on arriving early to TheShack give them a quick call first, because only select stores will be opening at 6am.