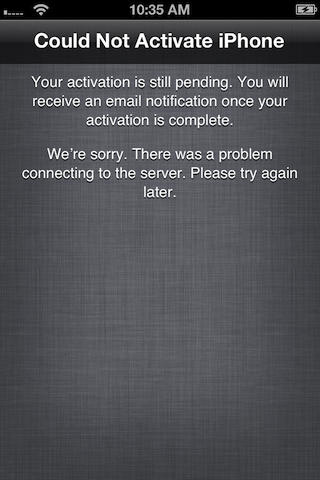 No surprise here, but AT&T's Activation Servers have again failed due to the launch of an iPhone.  As reported by MacRumors, users across the country are experiencing problems when trying to activate the iPhone 4S.  Many users simply received the message above when trying to activate their phones through iTunes.  It is unclear if AT&T's server fail is slowing iPhone 4S purchases and activations at Apple stores.
Source:  MacRumors
Apple unveiled the iPhone 4S at its Let's Talk iPhone keynote in Cupertino today, and just a few hours later the iPhone 4S, known by the model number A1387, won FCC approval.  FCC filings don't provide much detail, but they do confirm that the device will support both GSM and CDMA bands, making it a true world phone.  Another interesting note is like the Macbook Air, iPhone 4S will support Bluetooth 4.0 – a low power version of the spec.
Earlier today a new version of the iPhone 4 made an appearance on the FCC, with a few slight design tweaks.  And of course what's most notable is what didn't appear on the FCC today – the iPhone 5.  Contrary to rumors, we'll be waiting a bit longer before Apple unveils the next gen iPhone.