Garmin unveiled its Monterra GPS unit last month, and today the device appeared on the FCC.  The Monterra runs Android, and features a rugged housing with an IPX7 waterproof rating.  The device features 6GB of internal storage, NFC, ANT+, WiFI, Bluetooth, a built-in FM radio, and 8MP camera.  The Monterra does not function as a phone, but the device can run apps from the Google Play store, along with Garmin's custom GPS apps.
The Monterra is expected to be released in Q3 2013 and will retail for $650.
Is there still a market for stand-alone automotive GPS devices?  Parrot thinks so.  In October, the company unveiled its Parrot ASTEROID Mini multimedia system for cars.  In addition to core GPS mapping functionality, the ASTEROID Mini allows users to manage calls and music.  The device connects to Android and iOS devices via Bluetooth, and has a USB port for a 3G dongle.
The ASTEROID Mini's 3.2-inch TFT color screen isn't touch-enabled.  But the device does come with a wireless remote control that users can mount to their dashboard or center console.
The ASTEROID Mini will retail for $300 and is expected to ship in the US in February 2013.  Today, the device won FCC approval, so it looks like the device will be released right on schedule.
Garmin announced its nuvi 3590LMT personal navigation device this week at CES, and shortly after the device made an appearance on the FCC.  The nuvi 3590LMT won approval for its Bluetooth capabilities, which allow the device to connect to an Android phone via Garmin's Smartphone Link app.  When connected to a phone, the nuvi 3590LMT can download traffic information, weather data and gas prices, which can then be displayed on the nuvi's screen.
The nuvi 3590LMT features a 5-inch 800×480 display, 4 hour battery, microSD card slot in a small 5.4" x 3.4" x 0.5" package.  Teardown photos, below, show a TI processor and Samsung SDRAM, along with a GPS module from Cirocomm.
The device is expected to be released in Q1 2012 for $400.
Last month Motorola unveiled the MOTOACTV, a wrist-wearable GPS-equipped fitness tracker that will play music and monitor user workouts.  Today, the device hit the FCC, winning approval for its WiFi, GPS, Bluetooth and ANT+ capabilities.
The MOTOACTV is a small, square-shaped device that offers up to 16GB of storage and a 1.6-inch screen.  The device supposedly "learns" what songs are motivational, and tailors playlists for workouts.  The device can also track all sorts of fitness data that can also be uploaded to Motorola's MOTOACTV.com site.  You can even pair the MOTOACTV with your Android device to answer calls and receive text messages.
Sure, all of that sounds pretty exhausting, but I'm sure there's a certain portion of the population that will actually benefit from this functionality.  The MOTOACTV will launch on November 7th for $250.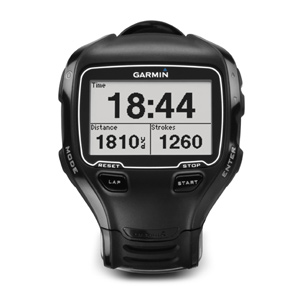 Garmin unveiled its latest GPS watch today, the Forerunner 910XT, and shortly later the device made its way through the FCC.  The 910XT is a GPS-enabled watch that offers a host of training features.  The device can monitor distance, speed, elevation, heart rate and more, and can upload this data for analysis on a PC or Mac.  The 910XT also supports ANT+ accessories, so you can use the watch with other workout monitoring devices.
FCC documents for the 910XT show the watch getting torn down, below.  It's quite amazing to see what Garmin fit into such a small package.
The 910XT will cost $450, and is expected to ship in 5 to 8 weeks.
Today a new GPS unit from Garmin called the nuLink! 2390 made its way through the FCC.  The device won FCC approval for its Bluetooth capabilities, as well as GSM bands 850 and 1900.  Those GSM bands are a key differentiator for the 2390, as they enable Live Services, such as Google Local Search, 3D traffic data, weather updates and other live services available through the nuLink store.  Users can even access live traffic cam feeds with the 2390, so you can see road congestion before you start your journey.
The 2390 is already available for preorder in the UK for £229.99, and the device is scheduled for a May 27th release.  No word as to when the 2390 will go on sale in the United States, but today's FCC filing is a good sign that this will occur soon.