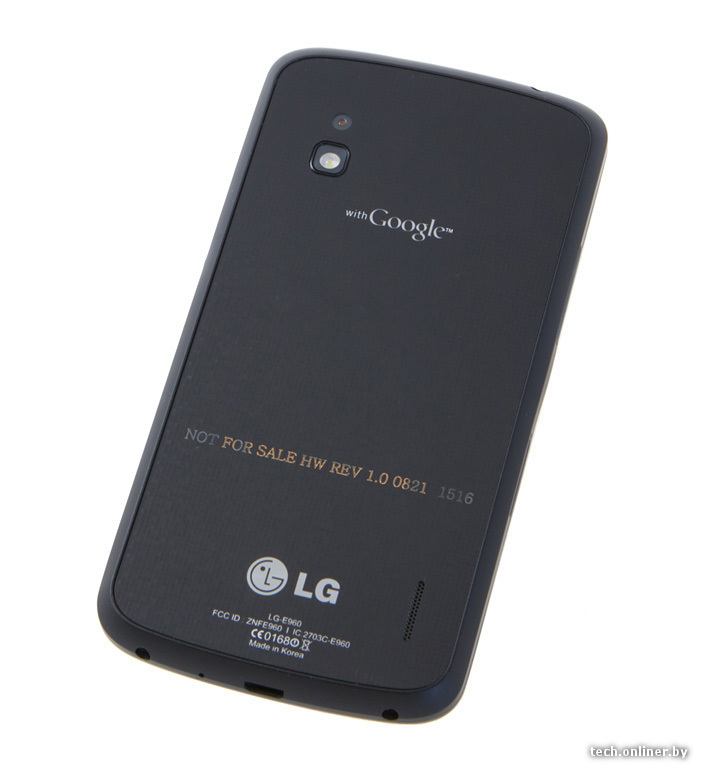 The LG Nexus 4 made an appearance today on a Belarusian site called Onliner.by.  The site published a brief review of the phone along with several pictures of the device (above).  As it turns out, the Nexus 4, also known by the model number LG-E960, actually made an appearance in the United States over a month ago thanks to the FCC.  Back on September 7th, the device won FCC approval and on October 2nd, a Class II Permissive Change for the Nexus 4 was approved.  As you can note from the photo above and the FCC test report below, the LG-E960 bears the FCC ID ZNFE960.
FCC reports show that the Nexus 4 won approval for GSM bands 850 and 1900, WCDMA bands II, IV and V, dual-band WiFi (2.4GHz and 5GHz bands), Bluetooth and NFC.  Support for GSM 850/1900 and WCDMA bands II and V are a good sign that the Nexus 4 will be making its way to A&T in the United States.  WCDMA band IV support also means that the device can support T-Mobile USA's network.  FCC documents did not make any mention of LTE support, although this could come in subsequent FCC filings.
FCC test reports also show that the Nexus 4 was tested with an inductive charger, model WCP-700.  Additionally, test reports do not show a separate inductive back cover listed as support equipment, suggesting that the Nexus 4 may support inductive wireless charging out of the box.
LG has not officially announced the LG E960 or the Nexus 4, although rumors about this device have been floating around for several weeks.  These FCC filings do confirm that the phone reviewed by Onliner.by is an actual LG device, assuming that the FCC ID on the device pictured on Onliner.by is not fake, of course.
Google and Samsung announced today that they will not unveil the Nexus Prime at CTIA next week.  According to Gizmodo, Google postponed the event out of respect for Steve Jobs – classy move.
Those of you pining to learn more about the Nexus Prime should take a look at the video below that shows the Prime in action running Ice Cream Sandwich.  And yeah, it looks awesome.
HTC's marketing team seems to have jumped the gun a bit with its latest Adwords buy.  Today, a Google search for "HTC Sensation" brought up an ad from HTC announcing that the Sensation will launch on June 8th, above.  The ad has since been replaced with another ad from HTC proclaiming "Discover Soon.  Pre-Order Now."  The new ad takes viewers to HTC's Sensation product page, but an actual link for preordering the device is not yet available.
We'd guess that HTC's marketing team jumped the gun on the Sensation's launch date by just a day or so.  We expect that T-Mobile will officially announce a release date for the Sensation in the very near future, and HTC's current adwords ad suggests that the device will be available for preorder when it is announced.
Source:  Android Central
It was a tough day for Sprint, with the company's stock losing nearly 14% of its value following the announcement of AT&T's planned acquisition of T-Mobile.  But there was a bit of good news for the company, with the official announcement of the Nexus S 4G for Sprint's WiMAX network.
Previously only available from T-Mobile in the United States, the Nexus S 4G sports Android 2.3 Gingerbread, a 4" contour display, 1GHz Samsung Hummingbird processor, 16GB of internal memory, 512MB of ROM/RAM, front (VGA) and rear (5MP) camera, WiFi, Bluetooth and NFC.
The device will cost $200, and you can preorder it today from Best Buy with an expected launch date in the Spring.  Plans for the Nexus S 4G start at $70 per month, plus a $10 Premium data add-on regardless of if you live in a 4G coverage area or not.  Still, we do appreciate Sprint's unlimited plan, as fewer carriers are willing to offer unlimited data.  Also remember, that unlike other devices that are chock full of crapware and skins, the Nexus S 4G is a Google phone that is not loaded with uninstallable apps or skins.
You can read Best Buy's Nexus S 4G announcement here, as well as Andy Rubin's announcement of the device here.
YouTube announced today that it is in talks with the National Basketball Association and the National Hockey League to show live, streaming games on its site.  According to Gautam Anand, Google's Director of Content Partnerships for Asia Pacific, Google is in talks with "most pro sports leagues" including the NBA and NHL, and European soccer leagues.
Such a deal would drive viewers to YouTube and generate significant ad revenue for Google.  It's likely that any partnership with a sports league would involve an ad revenue sharing agreement with Google, bringing additional revenue to sports leagues as well.
But there will be several big losers if YouTube wins the rights to stream live sports.  TV networks pay sports leagues millions of dollars a year for rights to broadcast games.  In 2002, TNT signed a $2.2 billion, 6 year contract to show NBA games, for example.  If live games were available for free over YouTube, TV networks would likely see ad revenue decrease.
Cable TV providers might have the most to lose if YouTube wins rights to show live sports.  A growing number of subscribers are already ditching cable TV in favor of less expensive video streaming options like Hulu and Netflix, or video download services such as Apple's iTunes.  A significant percentage of TV shows are now available online, which can eliminate the need for a separate cable TV subscription for many viewers.
But so far, live sports broadcasts have been a key differentiator for cable.  I, for one, would have cancelled my cable TV subscription a long time ago, if not for live sports broadcast in HD via Comcast cable.  But if YouTube is able to bring live streaming sports in HD to my computer, connected TV or Google TV, I would gladly cancel my $100 plus a month cable subscription in a second.
Some leagues currently broadcast games online or on mobile devices.  Major League Baseball's MLB.TV service, for example, streams most games live over the Internet.  However, MLB.TV is expensive at $120 a year for the premium package, a key barrier that reduces the attractiveness of the service.
At this point it's not clear how close Google is to securing rights to broadcast NBA and NHL games.  In fact, a spokesman for the NHL has denied that the league is in talks with Google.  Additionally, Google made no mention of MLB or the NFL, not to mention college sports, which could prevent customers from ditching their cable TV subscription.
Still, I have the feeling that live streaming sports online is a "not if, but when" proposition.  With an NFL lockout looming and the NBA collective bargaining agreement set to expire soon, it's clear that team owners and leagues are scrambling to find new sources of revenue.  YouTube is an excellent platform for live sports broadcasts that could provide owners with a new income stream – imagine a future where leagues sell both broadcast and online rights to content.  We'll see how this plays out over the next few months, but I wouldn't be surprised if this is a watershed moment for the television industry, and perhaps the beginning of the end of cable TV.
Source:  Bloomberg