Apple started taking preorders for its third generation iPad just a week ago, but according to Apple's Online store, the device has already sold out.  Ship times for all versions of the device are listed as 2 to 3 weeks, above, a much larger delay than last week, when the device was expected to ship on March 19th.  The story isn't much different abroad.  The iPad is sold out in other launch countries, including Japan, the UK, France, Germany and Canada.
There is good news, however.  It appears that Apple stores will open at 8am on Friday, March 16th, so you can pick up the 3rd gen iPad in person without waiting 2 to 3 weeks for an online order.
It's been about 24 hours since Apple unveiled its next generation iPad and 20 hours since Apple's online store went back up, yet most iPad models are still in stock.  As you can see above, all versions of the black iPad are in stock and expected to ship on launch day, March 16th.  White WiFi iPads are also still in stock, however white 4G AT&T iPads are delayed by 3 days (below), with orders expected to ship on March 19th.
It's unclear if demand for the third generation iPad is weaker, or if Apple simply has greater stock this time around.  We are used to seeing new Apple products sell out in a number of hours, so it was definitely surprising to see the iPad still in stock this morning.
A patent application filed earlier this year by Apple may bring improved accessory integration with iOS devices.  The patent, described as "Pushing a user interface to a remote device," describes a method of displaying the iOS interface (as well as the iPod interface) on accessories, such as a car's navigation system, and allowing seamless integration between the two devices.
While many auto manufacturers currently offer iPod or iPhone interface accessories, most of these devices display only a rudimentary playlist on a car's navigation system with slow forward/back, up/down interaction.  Apple's UI push patents describe how the entire iOS interface – apps and all – can be displayed and controlled by a third party device, as illustrated above, via touch or a D-Pad.  In theory, this will allow users to interact with iOS and iOS apps through their car's navigation system, for example.  While playing Angry Birds while driving probably isn't a great idea, there are some apps, like music, email or maps, that would be idea for a car's nav system.
Check out the patent, application number 13/175,581, here.  Note that this is just an application – it hasn't yet been issued.
Danish consumer electronics manufacturer Bang and Olufsen will soon be getting on Apple's Airplay bandwagon with its Beolit 12 speaker, pictured above.  The compact speaker features a retro look and intricate speaker grill, as well as a carrying strap for portability.  But under the hood, the Beolit 12 rocks a robust feature set, including WiFi, an Ethernet port, and USB port.
Users of iOS devices can play music on the Beolit 12 via airplay, while other devices can connect to the device via 3.5mm jack.  The top of the Beolit 12 also serves as a resting area for your media player as well as music controls.
No word on pricing or a release date for the Beolit 12 yet, but the device won FCC approval today, suggesting that we will see it in time for the Holidays.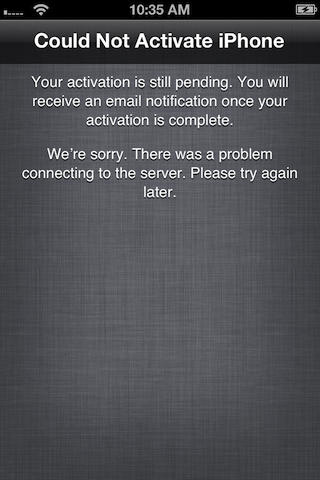 No surprise here, but AT&T's Activation Servers have again failed due to the launch of an iPhone.  As reported by MacRumors, users across the country are experiencing problems when trying to activate the iPhone 4S.  Many users simply received the message above when trying to activate their phones through iTunes.  It is unclear if AT&T's server fail is slowing iPhone 4S purchases and activations at Apple stores.
Source:  MacRumors
Garmin has been a vocal champion of the ANT+ protocol, and today the company's plans for an ANT+ adapter for Apple's iPhone were revealed in FCC filings.  According to FCC documents, Garmin's ANT+ iPhone adapter will work with the iPhone 3GS and iPhone 4 (no word on the iPhone 4S), and will attach to the bottom of the device, illustrated below.  We're assuming that Garmin will also soon release an app for iOS devices which will allow the Garmin ANT+ adapter to receive data from various ANT+ sensors.
ANT+ sensors are often used in fitness equipment to wirelessly track data such as heartbeat, speed and temperature.  Garmin's subsidiary, Dynastream Innovations, organized the ANT+ Alliance, and today the alliance has over 300 members, including Adidas, Microsoft, Sony Ericsson and TI.
Over time, we'd expect that Garmin's ANT+ adapter will make the iPhone a more capable workout companion, while opening the doors for a number of other wireless applications.