LG's Nexus 4 approved by FCC for use on AT&T bands, will feature wireless charging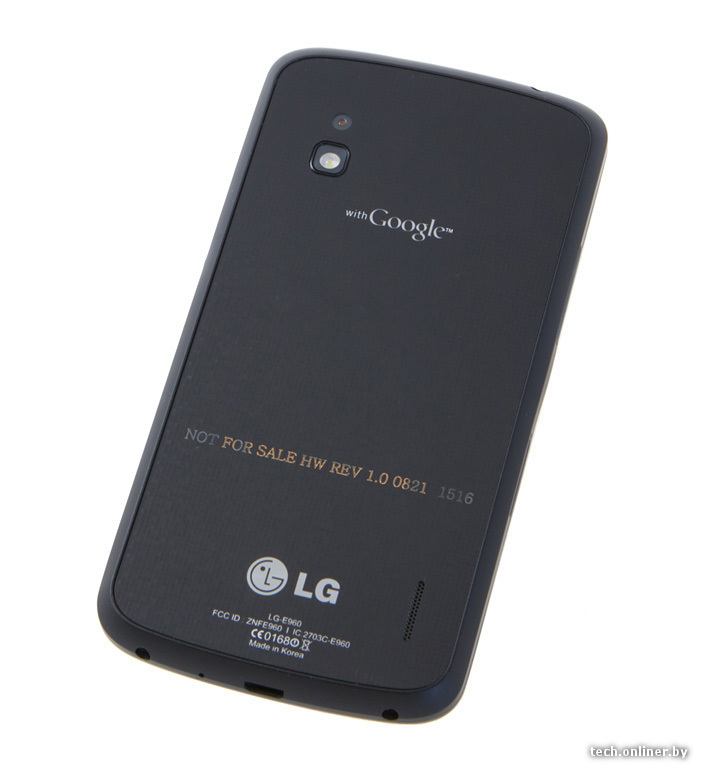 The LG Nexus 4 made an appearance today on a Belarusian site called Onliner.by.  The site published a brief review of the phone along with several pictures of the device (above).  As it turns out, the Nexus 4, also known by the model number LG-E960, actually made an appearance in the United States over a month ago thanks to the FCC.  Back on September 7th, the device won FCC approval and on October 2nd, a Class II Permissive Change for the Nexus 4 was approved.  As you can note from the photo above and the FCC test report below, the LG-E960 bears the FCC ID ZNFE960.
FCC reports show that the Nexus 4 won approval for GSM bands 850 and 1900, WCDMA bands II, IV and V, dual-band WiFi (2.4GHz and 5GHz bands), Bluetooth and NFC.  Support for GSM 850/1900 and WCDMA bands II and V are a good sign that the Nexus 4 will be making its way to A&T in the United States.  WCDMA band IV support also means that the device can support T-Mobile USA's network.  FCC documents did not make any mention of LTE support, although this could come in subsequent FCC filings.
FCC test reports also show that the Nexus 4 was tested with an inductive charger, model WCP-700.  Additionally, test reports do not show a separate inductive back cover listed as support equipment, suggesting that the Nexus 4 may support inductive wireless charging out of the box.
LG has not officially announced the LG E960 or the Nexus 4, although rumors about this device have been floating around for several weeks.  These FCC filings do confirm that the phone reviewed by Onliner.by is an actual LG device, assuming that the FCC ID on the device pictured on Onliner.by is not fake, of course.
Check out the full FCC filing for the Nexus 4 here.
Comments
comments